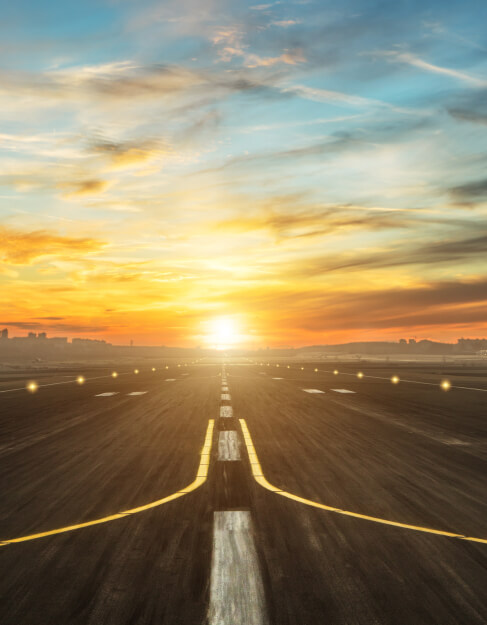 How drones are revolutionizing airport operations 
Making airports safer, keeping them compliant, and improving efficiencies 
Airports have long been at the forefront of technological innovation. Recent advancements include real-time flight tracking, automated check-in kiosks, facial recognition software and automating air traffic. Airport operators are leaders in the use of cutting-edge technology to ensure travelers get to their destinations safely and efficiently. 
Given this proven track record of early technology adoption, it's no surprise airports are increasingly exploring how uncrewed aerial vehicles (UAVs) – more commonly known as 'drones' – can be used to streamline operations. And the results are impressive. 
Drones and Wildlife Mitigation at Airports 
Bird strikes are a significant safety hazard for airports. Every year, there are thousands of collisions between birds and aircraft, resulting in damage to the planes and, in some cases, injuries or fatalities. Over 265,000 wildlife strikes have been reported to the Federal Aviation Administration (FAA) since 1990, and it is estimated that only one in four wildlife strikes are reported. 
Aside from the obvious crew and passenger safety concerns associated with bird strikes – who can forget the 2009 flight from LaGuardia airport that struck a flock of birds during takeoff, experienced power loss to both engines, and subsequently landed in the Hudson River – the financial damages can be tremendous. Estimates put the annual cost of damage and delays at US$1.2 billion. 
Several bird deterrent strategies have been employed by airports in recent decades to combat these growing bird strike incidents. These bird control measures include habitat modification strategies, firing air cannons, using bird sonic devices, electric tracks designed to deliver shocks to birds, firing pyrotechnics, and chemical spraying. 
And now drone technology can be added to this list of bird control measures. RoBird® <<link to RoBird® page>>, a remote-control flapping wing drone that mimics the characteristics of an actively hunting, female peregrine falcon, is a field-tested and proven solution for scattering and reducing bird populations near airspaces. By mimicking nature's most effective aerial predator, RoBird has been able to successfully reduce bird strike incidents by up to 77% at partner airports. 
YEG Edmonton International Airport is one of these partner airports, and CEO, Myron Keehn, had this to say about their partnership with AERIUM Analytics, the Canadian-based company behind RoBird. 
"We were able to partner with AERIUM early in its commercial applications and have been successful in reducing large mass bird strikes by 25% year over year at YEG. This has helped create a safer environment, in a humane and sustainable fashion." 
Drones and Infrastructure Management at Airports 
Understandably, airports are subjected to rigorous compliance and safety mandates (by Transport Canada in Canada and through the FAA in the US). These mandates include runway surface maintenance, approach path monitoring, site inspections, and foreign object detection. 
Infrastructure management is another area in which drones are starting to have impressive operational and financial impacts at airports. Drones can be used to inspect runways, taxiways, and other critical infrastructure, providing a bird's-eye view and collecting data that can help identify potential problems before they cause disruptions. Replacing the manual inspection processes of yore, these innovative drone solutions are saving airports significant costs, helping avoid lengthy bouts of downtime, and improving worker safety. 
In this recent International Airport Review feature, Keehn again speaks to YEG's partnership with AERIUM. 
"In addition to wildlife control, we have worked with AERIUM to use drones to conduct safety maintenance inspections of our runways, as well as the analysis of the precision approach lighting systems used by aircraft. We were the first Canadian airport, and AERIUM was the first drone services provider, to conduct a real-time analysis where the drone used highly specific tools to measure and collect data to help calibrate this lighting system." 
Drones and Airport Cargo Delivery 
Drones have also emerged as a powerful tool for cargo delivery operations. Last December was a turning point for drone technology and airport operations, as it marked the first time in Canada that a drone delivery operation took place within controlled airspace at an airport. That airport was YEG, and they worked closely with Transport Canada and NAV Canada in the lead-up to this maiden voyage to ensure optimal safety. 
Thanks to their small size and ability to fly quickly and easily between buildings, drones are well-suited for delivering small packages and items around airports. This is especially helpful during busy times when traditional delivery methods may be too slow or logistically difficult. By using remote-operated drones, this also eliminates the need for workers to enter active airfields, which reduces the risk of accidents and injuries. Furthermore, using drones for cargo delivery can help to reduce emissions and noise pollution around airports. 
As the demand for delivery and an expedient supply chain process continues to grow, drones will play an increasingly important role in supporting this growth. 
Drone technology is rapidly advancing and as it continues to evolve, the potential uses for drones are only increasing. To learn more about drone solutions in the airport industry, or to discuss how your organization can make use of this innovative technology, schedule a time to chat with our team by email [email protected]