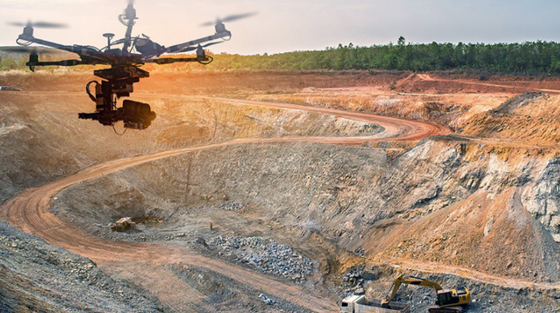 How drones are revolutionizing energy and mining operations
The energy sector is fundamental to the Canadian economy. In 2021, the energy sector accounted for almost 10% of the country's Gross Domestic Project (GDP) and energy exports to 142 countries exceeded $150 billion. The sixth largest energy producer in the world, Canada's energy sector employed 264,700 people in 2021.
As essential as the energy industry is, it is not without its challenges. A vast array of emerging innovation is being developed to address these challenges. Drone technology specifically is proving to be an indispensable tool for the sector, making it safer, more environmentally-friendly and cost-effective while providing rich analytical insights.
Driving Wildlife Protection
Bird incidents on oil industry tailing ponds can have significant impacts on the environment, corporate responsibility, reputation, and the bottom line. It is estimated that 20,000 birds land on Alberta tailing ponds on an annual basis, mistaking these ponds for bodies of water. In one particularly high-profile case in 2015, an energy producer was fined $3 million following the death of 31 great blue herons. High fines and damaging press aside, these bird mortalities can be disruptive to entire ecosystems and bird migration patterns. The energy sector is strongly aligned in seeking ways to protect these bird species.
Traditional methods of deterring birds from landings at oil sands tailing ponds typically involve visual and auditory cues, such as reflective disks or sound cannons. These scare tactics work well to ward off birds initially although their effectiveness tends to diminish over time as birds gain familiarity with the deterrents and begin to ignore them.
In recent years, drone technology has emerged as a leading solution for wildlife protection in the energy sector. Drones, also known as unmanned aerial vehicles (UAVs), are being used to monitor and assess habitats impacted by energy operations, such as oil and gas development sites. By using thermal imaging cameras, drones are able to quickly survey large landscapes and detect threatened or nearby species to help inform best practices during energy-related operations.
In addition to this proactive habitat assessment work, drones can also be used for bird dispersal, and has been effective in achieving a 75% reduction in bird mortalities on tailing ponds on one project. RoBird®, the flagship product of AERIUM Analytics, a leading Canadian drone technology provider, is a flapping wing drone that mimics an actively hunting, female peregrine falcon. Regarded as one of the most recognized and feared of all birds of prey around the globe, RoBird naturally, humanely, and safely leverages the characteristics of the peregrine falcon to prevent birds from landing and nesting in high-risk areas in close proximity to oil and gas development projects.
Devon Koroluk, Manager of Heavy Oil Mining Research with Imperial Oil, speaks to RoBird's effectiveness based on his organization's experience with the technology.
"AERIUM has been integral to our bird mitigation strategy by helping to significantly reduce mass bird landings at the Kearl Oil Sands project. This has helped create a safer environment – reducing human and animal interactions, allowing remote areas of site to be accessed safely, and preventing mass landings in a humane and sustainable fashion."
Making Work Sites Safer According to Energy Safety Canada, there have been 349 occupational fatalities in the Western Canadian oil and gas industry since 2001. This is 349 too many.
Some of the key risks to workers at sites include:
· At-height falls;
· Heavy machinery operation;
· Rock falls;
· Equipment inspection; and
· Gas leaks.
Yet another benefit of drone technology is that it can help to mitigate these dangerous and potentially deadly site risks.
Using drones to inspect energy sites can be a major asset in keeping workers safe. With the ability to monitor hazardous conditions remotely, UAVs can detect areas of concern that require attention, as well as provide visuals of working environments that would be otherwise out of sight. Remote monitoring with drones can also provide real-time data on conditions like temperature and pressure, potentially helping to prevent hazardous leakages or accidents before they occur. Such comprehensive surveillance has been proven to significantly improve employee safety on oil and gas extraction sites.
Minimizing Unplanned Downtime
Unplanned downtime at project sites is a costly proposition for energy companies – averaging between US$42 million – US$88 million per year according to Petro Online. Finding ways to minimize this downtime is a high priority for energy producers.
Drone technology is allowing project sites to eliminate cumbersome and time-consuming steps associated with traditional inspection techniques. Flare stack inspections are just one example of a way in which this technology is being utilized to reduce downtime. Traditionally flare stacks have been inspected manually, a laborious and dangerous process involving scaffolding and nine days of downtime. This same inspection can now be completed with a drone in one hour.
Using drones equipped with cameras and sensors for automated data and surveillance, companies can quickly and easily survey their sites for potential problems or hazards, obtaining information from remote locations with unprecedented speed, accuracy, and precision, and reducing unplanned downtime in the process. Not only does this help ensure quicker responses when issues arise, but it helps avoid costly repairs due to preventable issues that can come up if they are not addressed early.
The benefits of drone technology don't stop there; the data collected during these surveying activities is tremendously valuable for decision-making and can translate to significant cost-savings for energy companies.
Ongoing Research to Leverage Drone Technology
The Canadian Federal Government has recognized the game-changing value of drone technology and has committed to supporting its further development.
The Clean Resource Innovation Network (CRIN) is "a pan-Canadian network focused on ensuring Canada's oil and gas resources can be sustainably developed and integrated into the global energy supply." In March 2021, CRIN announced it was making $80 million available to the industry for projects that could demonstrate clean technology solutions for the energy sector.
One of the first projects to receive CRIN funding was the Automated Wildlife Detection Network and RoBird® Deterrence System, a joint project involving AERIUM Analytics, Imperial Oil, and the University of Alberta. The project is focused on taking the existing RoBird ornithoptor (which is the technical term for an aircraft that flies by flapping its wings) to the next level through the addition of real-time detection and autonomous reporting solutions.
Drone technology is rapidly advancing and as it continues to evolve, the potential uses for drones are only increasing. Wildlife protection, safer worksites, more efficient and productive operations – these benefits are just the beginning. It will be exciting to witness the ongoing energy industry applications for this innovative technology.